Let me be perfectly clear, I do not believe that sponsoring is threatened. We are, however, at an inflection point where personal brand power is forcing change in the ways sponsoring is undertaken. What was witnessed during the Tokyo Olympics epitomizes this change. There are three aspects of shift: engagement, measurement and the power delivered by the first two. This is not heralding the end of event sponsoring, but sponsors will have to power share in the future.
Engagement
Sponsorship, or partnering, between global brands and the Olympics is a funding source for the event and at the same time, a marketing platform for brands. This exchange is built on people and their connectivity to audiences, and in the case of the Olympics and Paralympics, athletes, because they bring life to brands. In the past, sport, arts, and events have been viewed as a context where advertising could be communicated, but this "sponsorship as advertising" view has given way to authentic engagement through sponsoring. Olympic athletes deliver authentic engagement. From swimmer, Caeleb Dressel's moment with his family, to gymnast, Oksana Chusovitina's farewell, to Cedric Dubler's support of his teammate in the decathlon, this emotional connection to audiences is what sponsoring brands seek to share.
Measurement
Sponsorship measurement has always been challenging. It is difficult to draw a line from an advertisement embedded in a program, a logo in the background, or the announcement of a brand in a context to brand sales. Social media has changed at least a portion of this game in that posts, likes and shares are trackable. Unfortunately for brands, people on social media tend to follow other people, not brands. As an illustration, before the Tokyo Olympics began, "a list of Olympians to follow on social media" was posted by the Associated Press; however, no such list was made for Olympic sponsors. Athletes' social media posts as brand ambassadors, endorsers, or in their role as sponsored athletes provide a trace that can be measured and evaluated. For example, swimmer Katie Ledecky posted before the Olympics began for #TeamReeses peanut butter cups on Twitter. We can measure the amounts of comments, retweets and likes, and so does the sponsor.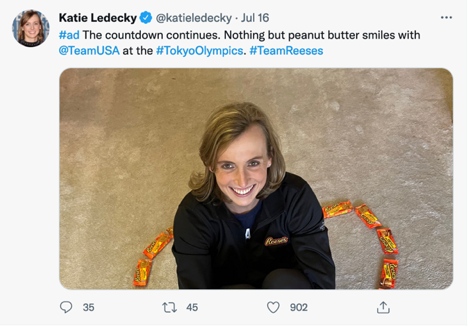 Power
Combining the athlete's potential to engage audiences and to measure this engagement on social media has increased their personal brand power. The International Olympic Committee, following years of pushback from athletes unable to promote their personal brands during the time of their peak performance, altered Rule 40 of the Olympic Charter. Rule 40 had protected Olympic TOP and national sponsors by preventing sponsor-related communications from Olympic athletes. The key principles of Rule 40 now detail commercial opportunities for participants. Athletes could, for example, thank personal sponsors that stood by them over the years and receive messages of support and congratulations from them. Allowances like this, even though still restrictive, afford more brand value that stays with, and may be managed by the athlete.
In the future, we can expect some US athletes to have stronger personal brands, by the time they reach the Olympics, due to legislative changes. In June of 2021, the National Collegiate Athletic Association changed their policy to allow student athletes the opportunity to benefit from their name, image and likeness. This means that student athletes can earn money related to personal brand activities and remain eligible to play in college. Early sponsorships, endorsements, speaking engagements will further develop their personal brand power. For example, Louisiana State University gymnast Oliva Dunne, with millions of followers on TikTok and Instagram, will benefit from her name, image and likeness while in college and holds potential to be an Olympic competitor with a powerful personal brand.
Symmetry
Brands that embrace the humanness of their athletes that will gain the authentic engagement that athletes uniquely bring to partnerships. Event organizers and sponsors will need learn how to share the stage with athletes in a more equitable fashion. These are not bad things.
Athletes may utilize their personal brand power to make decisions for themselves that would not have been entertained in the past. Preceding the Olympics, tennis player and Olympic torch bearer, Naomi Osaka withdrew from the French Open in support of her own mental health and cited the stress of contractually mandated interviews following matches as part of the problem. Her sponsors did not abandon her. Gymnast Simone Biles decided not to compete in some events at the Tokyo Olympics and sports apparel brand, Athleta and financial services brand, Visa stood with her in her choice. Power sharing is the future of sponsoring.